Uonuma Koshihikari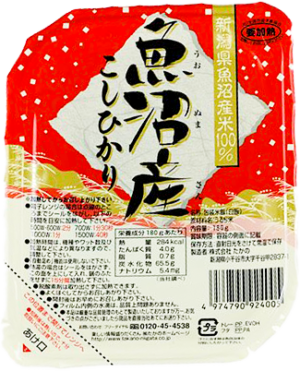 Koshihikari rice grown in the Uonuma region is used.
The rich land and the Shinano River, the longest river in Japan.
And the big difference in temperature during the harvest season.
The Uonuma region is perfect for growing
Koshihikari rice, ensuring a sweet, delicious flavor.
The best Koshihikari is made even tastier with the steam heating and pressurization method.
Suggested retail price : 200yen
Contents : 180g
Shelf life before opening : eight months from manufacture
Storage before opening : Store at room temperature, away from high temperature, high humidity, strong aroma, and direct sunlight.

Raw material name
Uruchi rice (Uonuma Koshihikari)
Nutrition facts per serving (180g)
Energy

302kcal

Protein

4.5g

Fat

0.5g

Carbohydrate

66.8g

Salt equivalent

0g