Germinated brown rice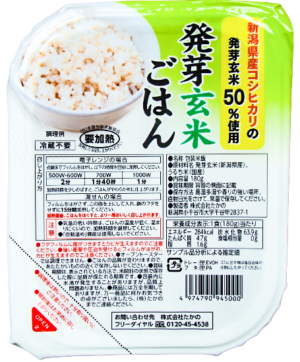 This product contains 50% germinated brown rice from Koshihikari rice grown in Niigata Prefecture, cooked with domestic rice.
This germinated brown rice is soft and easy to eat while maintaining the delicious taste of rice.

It is also recommended for onigiri and curry, and can be eaten with any side dish, Japanese, Western or Chinese.
Suggested retail price : 190yen
Contents : 180g
Shelf life before opening : 240 days from manufacture
Storage before opening : Storage before opening: Store at room temperature, away from high temperature, high humidity, strong aroma, and direct sunlight.

Raw material name
Germinated brown rice (grown in Niigata Prefecture), Uruchi rice (grown in Japan)
Nutrition facts per serving (180g)
Energy

284kcal

Protein

4.7g

Fat

1.6g

Carbohydrate

63.9g

Salt equivalent

0g