Sado-grown Koganemochi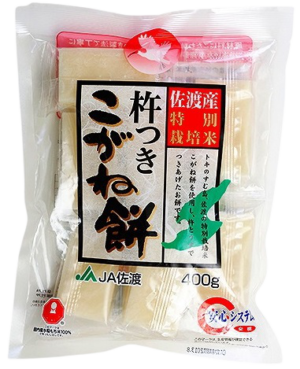 Raised on Sado Island, where people tried to live with Japanese crested ibises in harmony.
100% specially grown rice from JA Sado is used.
These mochi are made with a focus on safety in both the ingredients and the manufacturing process.
Indulge in the original sweetness and stickiness of the mochi with peace of mind.

What is specially cultivated rice?
This is glutinous rice grown using less than 50% of synthetic pesticides and less than 50% of nitrogen contents in chemical fertilizers compared to conventional levels.
Suggested retail price : 600yen
Contents : 400g
Shelf life before opening : eighteen months months from manufacture
Storage before opening : Store at room temperature, away from high temperature, high humidity, strong aroma, and direct sunlight.

Raw material name
Glutinous rice (domestic)
Nutrition facts per serving (50g per product)
Energy

117kcal

Protein

2.0g

Fat

0.3g

Carbohydrate

25.4g

Salt equivalent

0g