Seventeen-grain Rice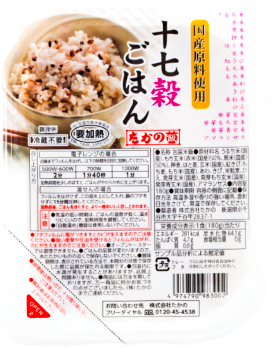 This is rice made with multigrain using domestic ingredients.
A blend of eight types of rice and nine types of multigrain.
Just heat it up in the microwave for delicious, easy-to-eat, flavorful rice.
Suggested retail price : 200yen
Contents : 180g
Shelf life before opening : eight months from manufacture
Storage before opening : Store at room temperature, away from high temperature, high humidity, strong aroma, and direct sunlight.

Raw material name
Uruchi rice (domestic), glutinous brown rice (50% red rice (domestic) and 50% black rice (domestic)), rolled barley, pearl barley, brown rice (domestic), red millet, glutinous barley, glutinous rice (domestic), two types of millets, rice grain barley, Japanese barnyard millet, germinated brown rice (domestic), germinated glutinous brown rice (domestic), germinated green brown rice (domestic), amaranth grain
Nutrition facts per serving (180g)
Energy

281kcal

Protein

4.7g

Fat

0.8g

Carbohydrate

64.1g

Salt equivalent

0g